Summer stop no. 26 - ŚWIEBODZIN
BI BI 104 2011-12-05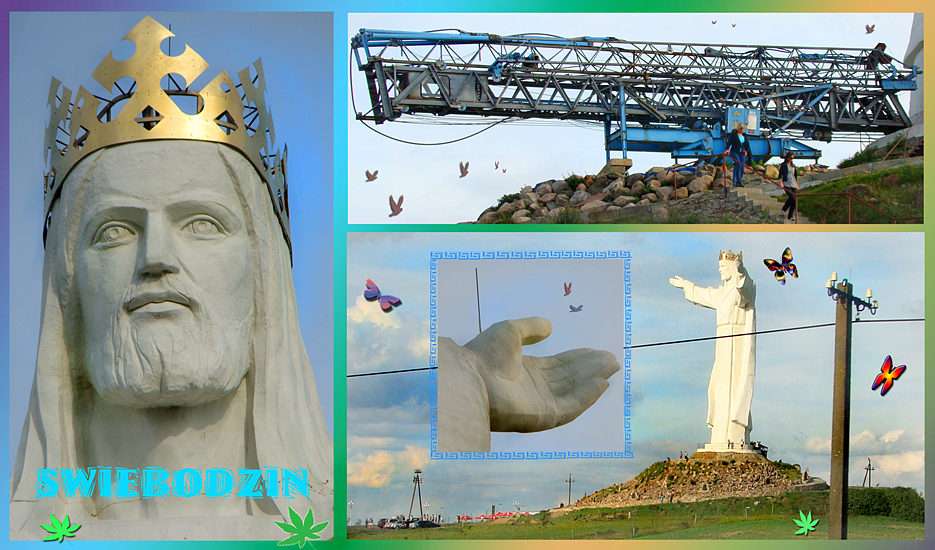 Figure of Jesus Christ King of the Universe in Świebodzin. <br />
This kind of sculpture was made according to the design of Mirosław Kazimierz Patecki from Przybyszów. <br />
Technical data: <br />
Mound - 16.5 m; <br />
Figure - 33 m; <br />
Crown - 3 m; <br />
6 m taller than his brother in Rio de Janeiro; <br />
Total - concrete 52.5 m high, weight - 440 tons with a hook. <br />
Last year, the figure was the laureate of the Macabryla of the Year 2010 poll. <br />
The statue stands in the middle of nowhere and scares us from a distance. There is a gravel parking lot on the flat part of the mound. A bit higher we have the gastronomic and marketing part of the project. The whole thing is closed with a shed with loungers, which I was afraid to enter because it was making very strange sounds under people's feet. The movement under the statue was mediocre - they miscalculated!
Best results for 13×8 size
(104 pieces)
Updated every 2 hours
table
different
building
boat
water
group
horse
standing
text
screenshot
cartoon
field
grass
person
photo
historic site
sculpture
statue
bird
stock photography
looking
sheep
engineering
aircraft
costume hat
headpiece
crown
tiara
aerospace engineering
collage
hair accessory
Other puzzle from the Architecture category
Copyright 2021 www.epuzzle.info All rights reserved.
Solve puzzle